.
SAM National is owned and operated by Sr Andy Madey

About our Organization
Our Company was established in 1992 as a Family owned and operated company. We have been involved primarily in retail sales, network marketing, and WEB development both locally and world wide on the Web.
Our customer base includes all 50 States and extends from Australia to Germany in 9 different Countries. We deal with each and every customer personally, either through Electronic Mail or on our 800 system. Our customers are very important to us. We do not believe in using recordings or autoresponders to take short cuts. We both have been employed in Retail Management for over 20 years and know the value of customer care.
We use National Bank Card Systems to process credit orders.
Our server is Mesh Net Internet Services of Aledo, Texas, who provides us with 128 bit encription, (data encoding and scrambling), for our secure order pages so that your personal information can not be intercepted on the way from our web site to our server.
About our Programmer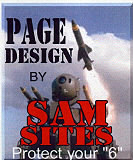 My name is Andy Madey and I would like to meet with you help take care of creating and maintaining your advertising needs on the World Wide WEB. I Am Fluent in HTML and JavaScript programming. All of my web sites are hand programmed without the aid of commercial script writing programs such as "Front Page". Hand programmed script is much cleaner and will load faster on Netscape and Internet Explorer than mechanically produced script.
I have the "in-house" capability to create and edit logos and graphics in a wide variety of formats. I can also take your letterhead or brocure images and transform them into web ready graphics that can be used on your own home computer print program to attach to documents, letters, or even E-mails to give your correspondence a professional business look.
call (817) 596-3562
or
E-Mail
SAM National
111 Anvil Court
Weatherford, Tx. 76088
.